Combined Machines
Telme Combigel 3 A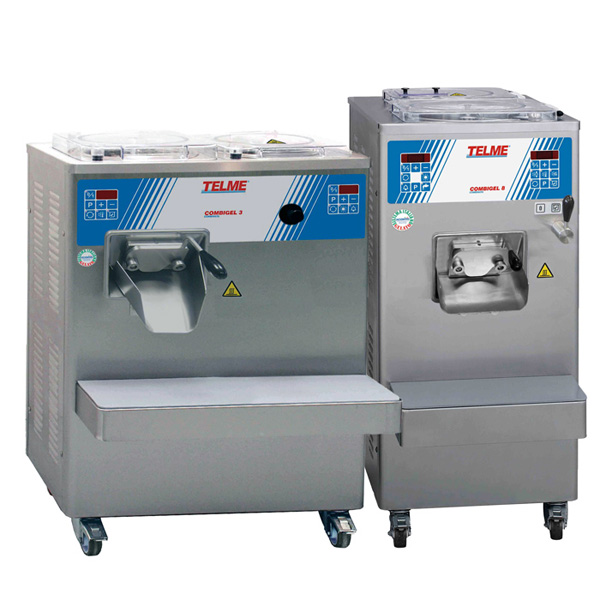 Included in the manufacturer list price:
EUR 18.500,00 net
5 years warranty by our company
0 % financing
Delivery incl. installation, commissioning and instruction
24 hours service hotline
These combined ice cream and gelato machines with the two vertical cylinders allow one flavour to be mixed and heated at the same time as another one is mixed and frozen. They also prepare specific recipes for single flavours. Versatile and fast for any gelato requiring hot/cold thermal treatment.
Typical buyers
Professional combined ice cream and gelato machines for small shops and medium productions. Particularly suitable for kiosks or corners in large shopping centres. Specific recipe can be set for each flavour. Combined machines are particularly in demand amongst users approaching the world of artisan gelato. Combined machines are also suitable to prepare quality sorbets, since they allow the preparation of sugar syrups with hot procedure.
Technical data
| | |
| --- | --- |
| Width/Depth/Height | 74x45x105 cm |
| Power | 14 A - 5,6 kW V 400 - 50 - 3 |
| Condensation | air or water |
| Max. mix per cycle L | 3÷6 |
| Lenght of working cycle minutes | 10÷20 |
| Hourly production L | 15÷30 |